Since 2020, the Atlanta Philharmonic has held a composition competition. Below are the winners from the first competition.
APO First Annual Composition Contest Winners 2020
Dustin Peters A Stone's Throw
Performance date: October 15, 2022, 7:30 PM
Whittaker Locke, Conductor
Performance video: https://youtu.be/eSOsksTbbAA
Dustin Peters (Dora Mavor Moore Award-winner) is a Toronto-based composer
whose works range from concert and chamber music to film scores, orchestral works
and pieces for voice & dance. Born in British Columbia, Peters began music studies on
piano from the age of 5 and studied double-bass at the Mount Royal College
Conservatory and University of Ottawa before focusing on composition in 2002.
Peters has had the distinct pleasure of working with some of Canada's finest
artists such as Kent Monkman (multidisciplinary artist), James Kudelka
(choreographer), the Toronto Symphony Orchestra, Sky Gilbert (playwright), Kevin
Mallon (Conductor/Violinist), Johannes Debus (Conductor) and Marion Newman
(Mezzo-Soprano). Peters' concert works have been performed across Canada, USA
and in Great Britain, including chamber music at Harvard University and the opening
work for the National Aboriginal Achievement Awards Ceremony. Dustin's film
scores have been heard in such international festivals as the Berlin International Film
Festival, ImagiNATIVE Media Arts Festival (Toronto), the Sao Paulo International
Film Festival and the Toronto International Film Festival.
www.dpeterscomposer.com
Sarah Platt Warp Drive
Performance date: June 12, 2022, 3:00 PM
Whittaker Locke, Conductor
Performance: https://youtu.be/RqTbOftDn9c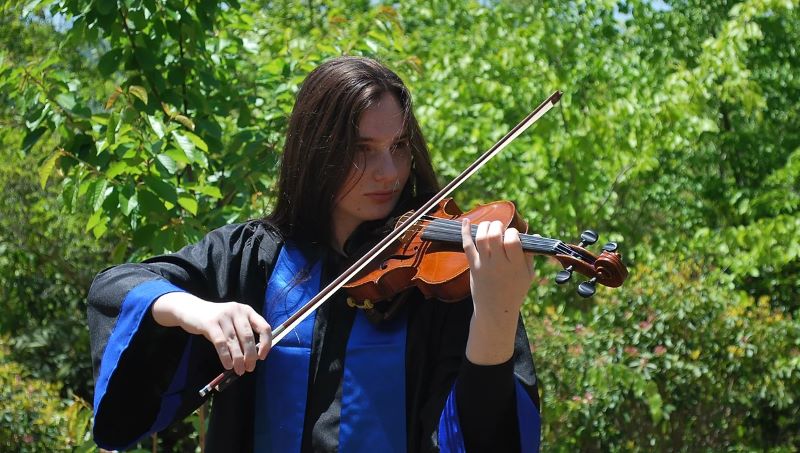 Sarah Platt is an experienced violinist, composer, and teacher based in Asheville, North Carolina. After discovering her passion for writing and playing music through a high school music theory course, she went on to study both violin and composition at Georgia State University. There she studied violin with Tania Maxwell-Clements, and composition with Dr. Robert Scott Thompson before graduating in 2020. As a composer, she combines minimalist textures and ideas with neoromantic thematic material to create an impressionistic and programmatic style. As a teacher, Sarah maintains a studio of both adults and children at all levels of proficiency. Sarah's core principles of teaching are parental involvement, aural skills, and critical listening and interpretation. Additionally, Sarah enjoys performing and volunteering for non-profit and community orchestras. She has performed with the Atlanta Philharmonic Orchestra, the Atlanta Musicians Orchestra, and the Georgia State University Symphony Orchestra.
Simone Piriano Intermezzo
Performance date: April 24, 2022, 3:00 PM
Amy Wilson, Conductor
Performance: https://youtu.be/zew8LHhugqA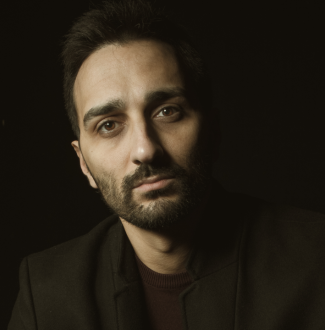 Simone Piraino is an Italian Composer, Musicologist and Events Manager. He was born in Palermo in 1985.
He graduate in 2007 with 110 and honors in the Bachelor of Arts of "Music Disciplines" and in 2010, also with 110 and honors, in the Master of Arts of "Musicology" always at the University of Palermo with the well-known musicologist Paolo Emilio Carapezza.
At the Conservatory of Palermo he graduated in 2019 with 110 honors and special mention with Sicilian composers Giovanni D'Aquila and Marco Betta in the Master of Music of "Composition" and in 2013 he take the 2nd Level Master Degree of "Organization and Management of Events".
In 2012 he debut as a composer with "Abbraccio Infinito": his poetics is based on simple but intense harmonies, with many diatonic clashes and a melodic lines tend to Endless. His music is published by Universal Edition (Wien), Stradivarius (Milan), Wicky Music (Milan) and Da Vinci Publishing (Osaka).
He has participated at many International Festival with over 50 first performances in Sicily (Palermo, Catania, Trapani, Agrigento), in Italy (Rome, Milan, Pisa, Lucca) and in the USA (New York), Russia (Petrozadovsk), England (London) and Lebanon (Beirut).
He take part at important events like the Rostrum of Composers, Season of Teatro Massimo, Weeks of New Music, Beirut Chants International Festival, Italian Make the music day, Windsor Academy Festival, Columbus Day, Silver Sound International Festival, Dionysian Segesta's Theatre Festival, International Festival of Palermo Classica, Season of Lucca Classica, Gibellina's Orestiads, Season of Conservatory of Rome, Palermo and many others.
In 2020 Piraino write official soundtrack for "The Soldier and the girl" a film by Jaykumar Shah (USA, 2020) and "Like falling leaves", award-winning film by Vincenzo Totaro (Italy, 2020).
Parts of his Chamber music is published on two CDs: a monographic collection called "Verso la Luce" (Stradivarius, 2021) and a compilation of new compositions by many Sicilian composers called "Riflessi sonori: Italian contemporary piano trios" (Da Vinci Publishing, 2020).
His music is reviewed on Classics Voice, American Record Guide, Amadeus, GBOpera, Rivista Musica and from critics and musicologist like Renzo Cresti, Piero Mioli, Riccardo Viagrande, Andrea Milanesi and Giuseppe Pennisi.
He took part of over two hundred concert like Events Manager, Chief of Production, Artistic Director, Assistant of Production, Orchestra & Staff Manager, Assistant of Orchestra and other rules.
Now he work at the Teatro Massimo of Palermo (Italy) like Chief of Musical Archive, composer and arranger and, at Conservatory of Ribera (AG, Italy), he teach History of Music, Dramaturgy of Music, Bibliographic Research and Events Organization.
He has written many journalist article and six musicologist book (on Sergej Rachmaninov, New Italian's composers, Meaning of Music and History of Music).
APO First Annual Composition Contest Winners 2022
Massimo De Lillo From the Mystical East
Performance date: October 21, 2023, 7:30 PM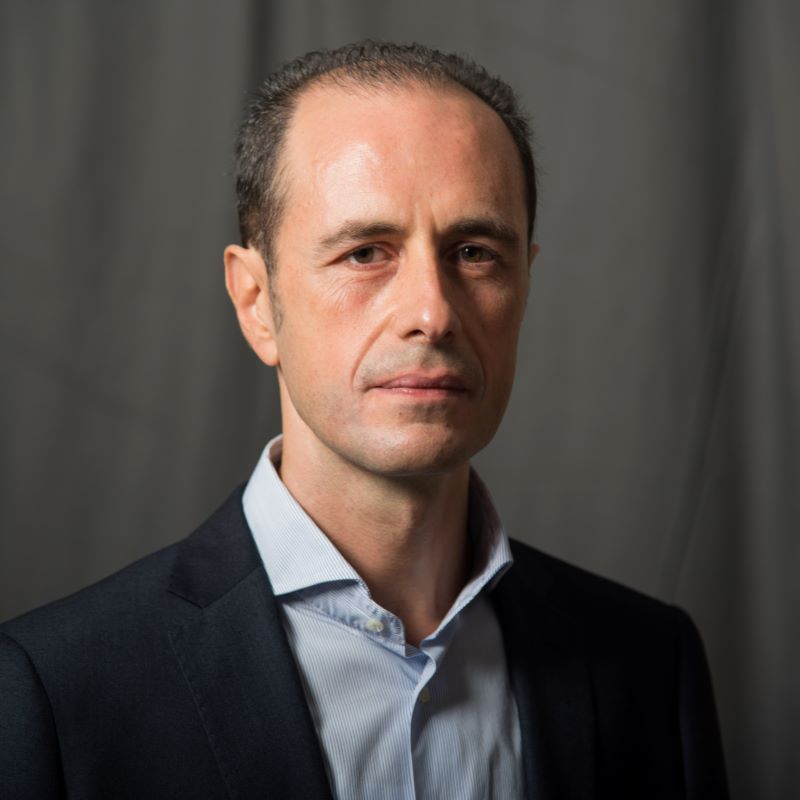 Massimo De Lillo is an Italian composer, music arranger and teacher. He graduated with honors in composition at the "N. Piccinni" Conservatory in Bari and also specialized in film music with Luis Bacalov at the Accademia Chigiana in Siena.
He has been awarded first prizes in several international composition competitions, including the RŮŽIČKOVÁ Composition Competition in Greit Britain (2021), the CLASSIC PURE VIENNA Composition Competition in Austria (2020) and the International Competition BRUNO SERRI in Modena, Italy (2017).
His works have featured in festivals and concerts in Italy, Argentina, Canada, Croatia, France, Germany, Japan, Singapore and United States. Some of his compositions have been recorded for the Digressione Music label (Italy) and published by Trübcher Publishing, Prima la musica! (Great Britain) and WIP Edizioni (Italy).
He also studied philosophy, graduating with honors at the "A. Moro" University in Bari. He has published several essays and books on musicological, philosophical and pedagogical subjects, including the critical catalogue of Ottavio De Lillo musical works.
He currently teaches at the "G. Salvemini" high school in Bari.
Allen Molineux Trifles
Performance date: April 16, 2023, 3:00 PM
Whittaker Locke, Conductor
Performance video: https://youtu.be/4AY8wMNwnd4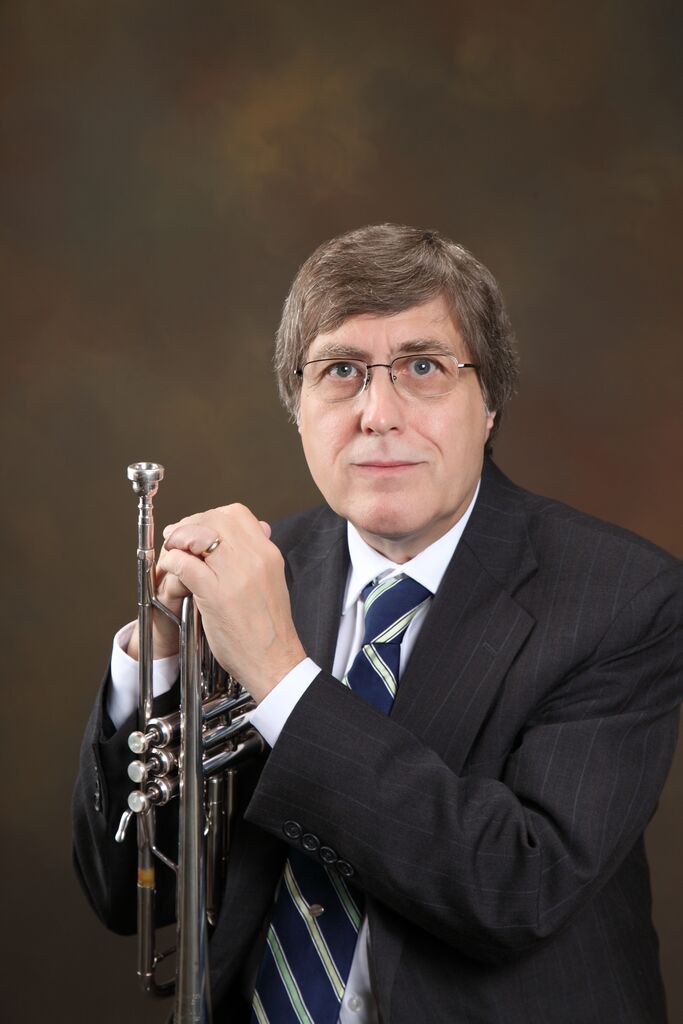 Allen Molineux (b.1950) received a B.M. degree in composition from DePauw University, a M.M. in composition degree from the Eastman School of Music and a D.M. in composition from Florida State University. In addition, he attended the Lukas Foss Workshop at Indiana University in 1981, Gunther Schuller's 1986 Atlantic Center for the Arts Workshop and Pierre Boulez's Carnegie Hall Workshop in 1999. His orchestral work "Trifles" was the winner of the Tampa Bay Symphony's first composition contest; receiving three performances by them in 2017. In addition, it is now released on the ABLAZE Records label and is published by Da Vinci Publications. His work "Zappy" for brass quintet and three percussionists was chosen as the winner of the Percussive Arts Society's 2017 composition contest. In 2019, his "Something Unsettled" for trumpet and piano was the winning submission in Catagory I for the McMurry New Music Project and his "Tears of Ramah" was the first place winner of the Hillcrest Wind Ensemble Composition Contest and was performed by the University of Louisville's Wind Ensemble at the College Music Society's National Conference.
In 2021, his "Scherzi" was recorded by composer/pianist Jeffrey Jacob on the New Ariel label and his string orchestra piece "Contentamento" by conductor Pawel Kotla and the Kalisz Philharmonic Orchestra on the Phasma-Music label.
For 35 years he taught at several universities and colleges such courses as Theory, Composition, Arranging, Counterpoint, Form and Analysis, Band, Orchestra and Jazz Ensemble. He is now retired from full time teaching, which has given him more time to compose.
Mark Dal Porto Song of Eternity
Performance date: October 21, 2023, 7:30 PM